Kennedy's Kitchen Ireland Tour October 2023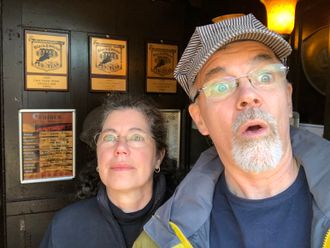 Donegal, Off The Beaten Path.   We are working on filling in the details, which will include round trip air, hotels, several dinners, all of your breakfasts, and, of course, the inimitable charm of Ireland's tour bus drivers.  They are the best.  
Donegal is stunningly beautiful, and it does not get the tourist traffic that the rest of Ireland gets.  It is remove, and mush of it still feels wild.  The beaches are some of the most beautiful in Europe.  It will be quiet by comparison to tours that visit county Kerry, Clare, and Galway.  
Our tentative dates:  October 14-22.
Kennedy's Kitchen Ireland 
October 13 – 22, 2023 
Friday, October 13 – Depart USA 
Saturday, October 14 – Arrive Dublin, travel to Donegal Town (3N – Central Hotel), stop for breakfast at Slieve Russell Hotel (€16.50pp) (B,D) 
Sunday, October 15 – Donegal Town – morning Slieve League cliffs by boat or by coach, afternoon free (B) 
Monday, October 16 – Donegal Town – Blue Stack Mountain drive and Donegal Harbor cruise (B) 
Tuesday, October 17 – Donegal Town to Downings, Grianan of Aileach along the way (B,D) 
Wednesday, October 18 – Downings – music & island boat tour (B) 
Thursday, October 19 – Downings – free day (B) 
Friday, October 20 – Downings to Belfast, stop in Derry for Walls tour, then Giants Causeway, continue on Glens of Antrim coastal drive to Belfast (B,D) 
Saturday, October 21 – Belfast, Troubles Coach Tour and Titanic Belfast, evening free 
Sunday, October 22 – Travel to Dublin Airport for return to USA
TOUR DEPOSIT AND PAYMENT: Reservations may be made by check or major credit card. Credit cards  can be accepted for payment(s); however, the vacation price reflects a 4% cash discount. Please call InterTrav  at 630-377-5840 to arrange payment by credit card; 4% of the payment amount will be assessed on credit card  payments. You will be invoiced for the balance of payment due on or before Friday, July 15, 2022.   TOUR PRICING: The tour price is based on a minimum participation of 30 persons and includes planning,  handling and operational charges and is quoted on the current rate of exchange, tariff rates and airfares in  effect as of March 1, 2022.  CANCELLATION: If after making your initial deposit you find it necessary to cancel from the tour for any  reason, there is a cancellation charge equal to the per person deposit up to 100 days prior to departure. For  cancellation between 99 and 65 days prior to departure, there is a cancellation charge equal to 50% of the tour  cost. For cancellation within 64 days of departure, the cancellation charge is 100% of the tour cost.  IMPORTANT: Cancellations will not be accepted by telephone and must be sent in writing to: InterTrav  Corporation, 203 State Avenue, St. Charles, Illinois 60174, or emailed to travel@intertravcorp.com.  TRAVEL PROTECTION: You have the option of purchasing Travel Protection through Travel Insured  International. Plans help protect you and your travel investment and help provide coverage for unexpected  circumstances. Plans are purchased on an individual basis, the premium for the plan is non-refundable after the  14-day free look period and the rates are based on the vacation cost and traveler age. For a complete  description of coverage and to see all the covered reasons for cancellation, please call 630-377-5840 or e-mail  travel@intertravcorp.com  PASSPORTS AND VISAS: Your tour requires a passport valid for the duration of your travel. If you do not  already have your passport, we suggest you apply for it immediately. No visas are required for your tour.  However, if you are a citizen of a country other than the United States, you must advise us in writing with  your Reservation Application, as additional travel documents may be required.  RESPONSIBILITY  ????????? and/or INTERTRAV CORPORATION 203 State Avenue, St. Charles, Illinois 60174, and its  employees, shareholders, agents, and representatives (InterTrav) uses third party suppliers to arrange tours,  transportation, sightseeing, lodging, and all other services related to this tour. InterTrav is an independent  contractor and is not an employee, agent, or representative of any of these suppliers. InterTrav does not own,  manage, operate, supervise, or control any transportation, vehicle, airplane, hotel or restaurants, or any other  entity that supplies services related to your tour. InterTrav is not affiliated with any other tour operator. All  suppliers are independent contractors and are not agents or employees or representatives of InterTrav. All  tickets, receipts, coupons, and vouchers are issued subject to the terms and conditions specified by each  supplier, and by accepting the coupons, vouchers, and tickets, or utilizing the services, all customers agree that  neither InterTrav, nor its employees, agents, or representatives are or shall not be responsible or become liable  for any delay incurred or change in schedule by any person in connection with any means of transportation;  nor for any loss, damage or injury to person or property or otherwise, in connection with any service supplied  or not supplied resulting directly or indirectly from any occurrence beyond the control of InterTrav by reason  of any event beyond the control of any agency or supplier, or occurring without the fault or negligence of such  agency or supplier. InterTrav assumes no responsibility or liability for any loss, injury or damage or loss of  any traveler that may result from any act or omission on the part of others; InterTrav assumes no responsibility  or liability for personal property; and InterTrav shall be relieved of any obligations under these terms and  conditions in the event of any strike, labor dispute, act of God, or of government, fire, war, whether declared  or not, terrorism, insurrection, riot, theft, pilferage, epidemic, pandemic, illness, physical injury, quarantine,  medical or customs or immigration regulation, delay, or cancellation. InterTrav accepts no responsibility for  lost or stolen items, InterTrav reserves the right to refuse any participant or potential participant at its sole  discretion. No refund will be made for voluntary absence from the tour unless arrangements are made at the  time of booking.  The above tour conditions are provided in addition to the full terms and conditions of travel which can be  found here grouptripsandtravel.com/booking-agreement-terms-conditions/. By booking this trip you are  agreeing to be bound by the full terms and conditions of travel in addition to the tour conditions above. It is  therefore vital that you read the full terms and conditions before making any booking. Making a booking is  indicative of your agreement to be bound by all of the terms and conditions.