Have a seat! Will it be tea or whiskey?
We are family and friends, gathering Thursday evenings since 1998 for dinner, laughter, and music rooted in Traditional Irish Music: jigs, reels, hornpipes, aires, recitations, stories, and songs......  original tunes, songs, and recitations, from traditional to pub songs, comedic songs, from toe-tapping to deeply moving....and it's always fun.  
Our 6th CD is The Whiskey of Truth, released in October, 2019.

It's Kitchen Music from the home, the hearth, and the heart.  We are: joHn Kennedy, award winning singer and guitar player with Chris O'Brien, Joel Cooper, Mike Bill, Nancy Turner.  We are occasionally joined by Jacob Turner and Nathan Waddill.   

We play fiddle, flutes, whistles, mandolin, bouzouki, acoustic guitar, tenor banjo, harmonica, bodhran, and bass. And, we love to sing, oh how we love to sing.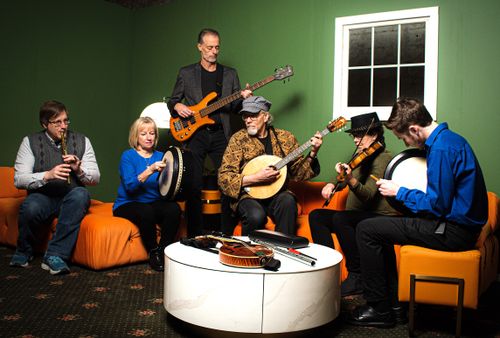 Left to right:  Mike Bill, Nancy Turner, Joel Cooper, joHn Kennedy, Chris O'Brien, Jacob Turner
 A few band highlights . . .    
Michigan Irish  Music Festival (It is 20 years?).   
The Celtic Classic (Bethlehem PA 2019, 2020, 2022)
Chicago's Irish American Heritage Center Irish Fest (15 years and counting). 
Great American Irish Festival (Frankfort, New York 2015 and 2016).   
LaCrosse Irish Festival (five years and counting).   
Franke  Center for the Arts ( Marshal Michigan)
The Wild Rose Moon ( Eight years running)
Oshkosh Irish Festival (six years and counting). 
Milwaukee Irish Fest (2012 and 2013).    
Peoria Erin Feis (six years and counting).    
Dayton Irish Fest
LVD's Concert Hall in Goshen Indiana (Nine straight years) .
The Acorn Theater, Three Oaks Michigan (Four shows and counting). 
The DeBartolo Performing Arts Center - University of Notre Dame (Four shows)
Michelsen Hall - University of Wisconsin-Steven Point (2015). 
University of Dubuque Heritage Center (2018)
Warren Cultural Center in Greenfield, Iowa (2012). 
The Schauer Arts and Activities Center in Hartford, Wisconsin (2011).   
The Majestic Theater in Gettysburgh, PA (2008).    
The Ramsey Auditorium at Fermilab in Batavia, IL (2008).    
Muskifest in Bethlehem, PA (2008).    
The Kranert Center for the Arts at The University of Illinois.   
Front Porch Music in Valparaiso, Indiana (Seven shows).    
Fiddler's Hearth in South Bend, Indiana over 250 shows (and still counting).    
Kate O'Connor's Pub in New Carlisle, Indiana Over 50 shows.
Riviera Theater in Three Rivers, Michigan (2009 2018 2021 2023).    
Norris Community Center in Naples, Florida