Have a seat! Will it be tea or whiskey?
We are family and friends, gathering Thursday evenings for dinner, laughter, and music rooted in traditional Irish Music: jigs, reels, hornpipes, aires, recitations, stories, and songs.....adding our own compositions. It's a mix of all things Irish, from traditional to pub songs, from toe-tapping to deeply moving....and it's always fun.
We've been making Irish music together since 1998, everything from backyard parties, weddings, wakes,  pubs, concert halls, and festivals.  Our 6th CD is The Whiskey of Truth, released in October, 2019.

It's Kitchen Music from the home, the hearth, and the heart.  We are: joHn Kennedy, award winning singer and guitar player. Joining in is joHn's nephew Liam Ladewski, Jacob Turner, award winners themselves having competed in the All-Ireland Fleadh on their respective instruments.  Christine O'Brien holds it all together with her gift for counterpoint melody.  Joel Cooper and Nathan Waddill play bass, thought not at the same time.  Nancy Turner holds down the bohdran when her son Jacob has an exam (he is in medical school).  

We play fiddle, flutes, whistles, mandolin, bouzouki, acoustic guitar, tenor banjo, harmonica, bodhran, and bass. And, we love to sing.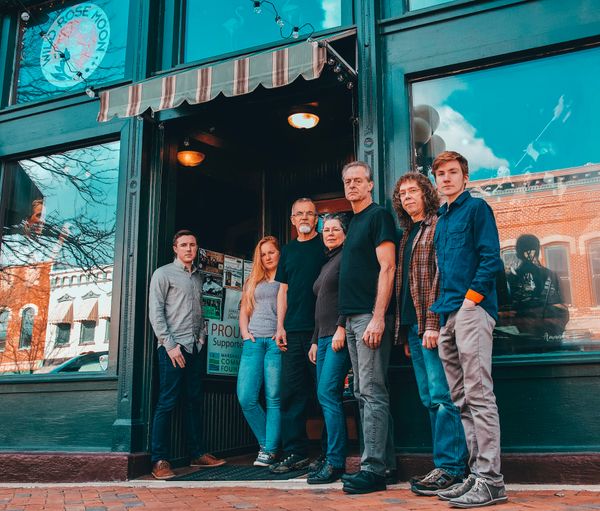 A few band highlights . . .    
Michigan Irish  Music Festival (18 years and counting).   
The Celtic Classic (Bethlehem PA 2019)
Chicago's Irish American Heritage Center Irish Fest (15 years and counting). 
Great American Irish Festival (Frankfort, New York 2015 and 2016).   
LaCrosse Irish Festival (five years and counting).   
Oshkosh Irish Festival (six years and counting). 
Milwaukee Irish Fest (2012 and 2013).    
Peoria Erin Feis (six years and counting).    
Dayton Irish Fest (2004 and 2011).    
LVD's Concert Hall in Goshen Indiana (Nine straight years) .
The Acorn Theater, Three Oaks Michigan (Four shows and counting). 
The DeBartolo Performing Arts Center - University of Notre Dame (Four shows)
Michelsen Hall - University of Wisconsin-Steven Point (2015). 
University of Dubuque Heritage Center (2018)
Warren Cultural Center in Greenfield, Iowa (2012). 
The Schauer Arts and Activities Center in Hartford, Wisconsin (2011).   
The Majestic Theater in Gettysburgh, PA (2008).    
The Ramsey Auditorium at Fermilab in Batavia, IL (2008).    
Muskifest in Bethlehem, PA (2008).    
The Kranert Center for the Arts at The University of Illinois.    
Front Porch Music in Valparaiso, Indiana (Seven shows).    
Fiddler's Hearth in South Bend, Indiana over 250 shows (and still counting).    
Kate O'Connor's Pub in New Carlisle, Indiana Over 50 shows.
Riviera Theater in Three Rivers, Michigan (2009 2018).    
Norris Community Center in Naples, Florida